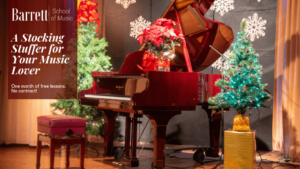 Do you always hear your child singing in the shower? Are their eyes glued to the performers at the school's talent show? Maybe they even play instruments at a friend's house? It sounds like you have a music lover! Give them the tools to grow that passion with our feature stocking stuffer – private, in home music lessons.
At Barrett School of Music, we blend expert music education with you child's unique interests and skills. Our teachers are college educated and professional. No other music school in the bay area maintains teachers up to our education standards. This is vital to our teaching goals.
None of our lessons look alike. That is because our students all have different stylistic and instrumental interests. They all come with a different set of innate and learned skills. It's our job as teachers to educate our students in an engaging and inspiring way. If we use the same method book for every student, most of those students will leave their lesson feeling like they completed a chore. Students should feel inspired and excited to go home and practice more! That's our goal using diversified lesson plans and repertoire, individually tailored to the student.
This holiday season, we're offering 4 free lessons to get your family started – best stocking stuffer ever! You choose your instrument – guitar, voice, piano, drums, violin, viola or bass. The free lessons will be equal to 2 hours of lesson time (4 half hour lessons or the equivalent), and must be used completely by February 3, 2019. Families must register in our parent portal before the first lesson.
To claim your offer, fill out the form below, or feel free to call us for more information at 813-293-4594