Students have been loving our Miami guitar lessons! The teachers at the Barrett School of Music offer a diverse and well-rounded education. They are trained in everything from jazz to bluegrass, pop to classical. And our students benefit from in-home teaching in a comfortable environment.
Our Spookiest Event of 2020
The first annual Virtual Spooktacular was so fun! Students taking guitar lessons in Miami and their families enjoyed performances from students at all levels. Additionally, each performer showed off their creative side with costumes and decorations!
One of our most enthusiastic students, Benji, dressed as a spooky skeleton and played "Howl at the Moon"-
The Spooktacular was one of our favorite events of this year. It gave brand new students taking guitar lessons in Miami an opportunity to perform from the comfort of their living room. And it allowed veteran performers to get creative with their playing! The evening was full of entertaining songs, adorable costumes, and lots of quality family time.
Miami Guitar Lessons for All Ages
It doesn't matter if a child has been playing guitar at school for years, or just picked it up for the first time. All of our teachers have experience with students of different ages and levels. Also, we approach each lesson based on the student's unique needs. Our teachers talk extensively with every one of their students about what their goals are in music, and how they would like to approach those goals.
Pacing matters! Each student is unique. And each teacher takes pride in having a studio full of diverse, passionate, and exuberant students.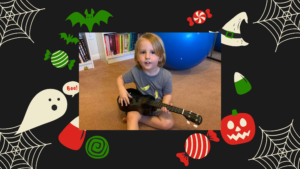 Meet a Teacher!
Jackson Potter is a crazy talented musician who teaches guitar lessons in Miami! He teaches both piano and guitar, and primarily works in Coral Gables, Pinecrest, South Miami, and Coconut Grove. In addition to teaching kids how to play, he also helps them with composition and music theory.
Jackson is actually an award winning guitarist and composer himself! His guitar playing has been featured on several albums. And currently, Jackson is studying at the University of Miami for his degree in jazz guitar, and teaches guitar lessons in Miami to students of all levels. In addition to Barrett School of Music, he works with the Guitars over Guns Summer Intensive Guitar Camp.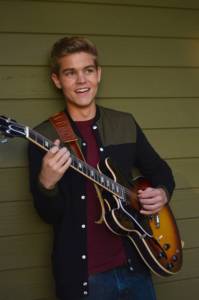 My role as a teacher for guitar classes in Miami is to guide students in exploring their curiosity. So, the greatest joy in teaching comes from watching a student develop their curiosity into an interest. Then, their interest into a passion.
We're Still Performing
Live musical performances are special. Listening to a song on the radio or watching a music video just doesn't compare to hearing music in person! However, in order to keep all of our students and families safe, the Barrett School of Music has been hosting virtual recitals! Our Spring Recital was held virtually, with students showing off their most challenging pieces from the school year. This month, we also had our Spooktacular Talent Show. And in December, we're looking forward to the annual Holiday Recital, also online!
Check out two of our talented students performing in the Spooktacular show!
If you're looking for a fun, enriching, and rewarding hobby this fall, contact us!