Our Singers are Superstars
Just about everyone has sang in the car, in the shower, or even while cleaning their room. But the students at the Barrett School of Music take it a step further. These over-achievers taking music classes in Miami have performed on stages large and small. Their performances range from huge stage productions, to church services, to solos in chorus concerts, and everything in-between! And our teachers love to encourage their students to push their own limits and experience everything a life with music has to offer.
Kids can do Big Things
Performing professionally is not just for adults! There are hundreds of kids singing and dancing on Broadway stages every year.Some even took their first music classes for kids in Miami. Along with the confidence to get up on a huge stage, these talented kids know their stuff. They train just as hard as the average Broadway performer. And they go to school at the same time! Being on Broadway is one of the toughest jobs in fine arts. But some kids just have what it takes.
One of those kids is Luca Padovan. He says this about performing-
 My favorite part of being in a Broadway show is making people happy. I love to hear the audience laugh and sometimes even sing along. I love the finale of the show because everyone in the audience gets on their feet and starts to dance along with us.
Not everyone has their heart set on a Broadway marquis. Many of the students taking our music classes in Miami light up local stages with their talent and confidence.
One of the Barrett School of Music's newest stars is Gabriella Nocco! Gabriella has been taking voice lessons for almost a year now, and in that time she has grown into a courageous young performer. And her mom tells us that she shows this passion in her every day life!
Gabriella has a love for singing and incorporates it throughout the day.  From getting ready in the morning to school, playing with friends or sports, and when preparing to go to bed at night, you will hear her singing.  She has a passion for singing and sharing her talents with others.
Gabriella has been fortunate to sing the national anthem at several large venues.  She routinely sings on stage at the church she attends (along with their Christmas concert), school plays, and soon will be playing young Cosette in Les Miserables. She was so excited to be in the show, she even started memorizing the part before the audition!
Along with singing, Gabriella is very active in sports to include basketball, volleyball, and karate.  She is an active reader who also likes to create art through pottery and of course, slime.
A Great Singer Needs a Great Teacher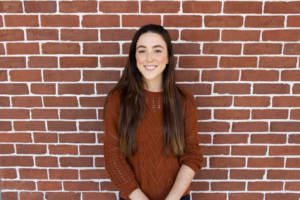 Gabriella loves her voice lessons. Along with singing some really fun music, she has a wonderful teacher, Stephanie!
Stephanie grew up in a family of musicians. Spending her childhood in New Jersey, her father played in a band that gigged regularly in New York City. She continues his legacy by performing in her own Jazz Duo – The Housecats! Stephanie started out as a self-taught pianist, guitarist, and singer, but has absorbed techniques from various teachers throughout her teen and adult years. Gabriella and Stephanie share a constant desire to be singing. Stephanie says that as a child, she would sing outside on her swing set so the whole neighborhood could hear!
When you have a passion at a young age, the possibilities are endless! I absolutely love sharing my knowledge and experience in live performance with students. Additionally, I feel privileged to be a part of their amazing musical journey.
If you want to encourage your child's love for performing, contact us to sign them up for music classes in Miami!