More Than Voice Classes in Miami
When you take voice classes in Miami with us, you're going to get solid technique and stylistic training. Plus, your teacher will be young and energetic. And did you know that all of our teachers hold music degrees from major universities? Our teachers use fresh, integrative methods to engage students. Furthermore, we use songs they love to build solid, transferable skills. But you're signing up for more than just voice lessons in Miami. We focus on the community. That is our studio community and the music culture throughout Miami.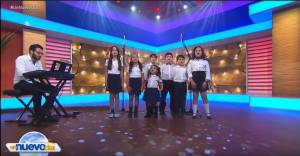 Barrett School of Music Community
Our studio is a family! When you sign up for voice classes in Miami with us, you also gain access to more. Our music school in Miami offers year round performance and workshop opportunities. At the close of each school year, we celebrate with a studio-wide recital for our students. Additionally, in the summers we put on camps, all based on the interests our students express. Then in the fall, we curate workshops and masterclasses to build up our own community of musicians. Also, we close out the year with a holiday concert and cookie party! Finally, Barrett School of Music is a member of the National Federation of Music Clubs. So, each year in February, our students are invited to perform before a panel of judges and are scored according to age appropriate skills. We love to create opportunities to enrich the musical lives of our students…
But we also want to enrich the music community throughout Miami!
The Greater Miami Music Community
We love the music culture in Miami, and we are strong contributors to the arts in our city. Previously, Telemundo broadcasted a Barrett School of Music choir on the national morning show. This puts Miami on the map once again as a city with strong music engagement. See us in action below.
If you're ready to get started with some voice classes in Miami, let us know!